When it comes to healthy eating, you don't have to sacrifice flavor. You can easily slash fat, calories and even carbs, if you're watching those, from all your favorite dishes without turning them into "diet" recipes. Here are 10 examples of how swapping in one or two simple ingredients can create a delicious dish that's far healthier than the original. With these Smart Swaps, you'll never know we made any changes to affect healthfulness!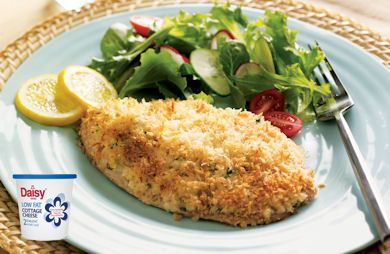 Baked Tilapia with Crumb Crust
Smart Swap: Panko "Faux" Frying vs. Deep Frying
Light and crunchy panko (Japanese breadcrumbs) helps replicate the crisp exterior of deep-fried fish. By topping your tilapia with this creamy herb sauce, you can save almost 10 g fat per serving and more than 2/3 the calories! (Bonus: Cottage cheese is the basis for this "cream" sauce--there's not a drop of heavy cream or butter in the dish!)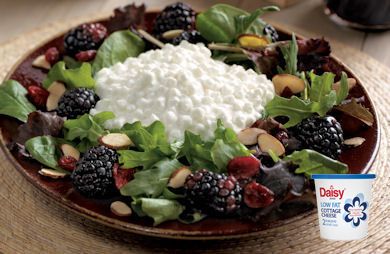 Blackberry Salad
Smart Swap: Cottage Cheese vs. Full-Fat Creamy Dressing
A creamy dressing adds contrast to the crisp greens, juicy berries, and crunchy almonds in this salad. However, traditional dressings made with cream or mayonnaise add little to the dish but fat. By topping the salad with cottage cheese, you'll get a dose of creaminess--plus 14 grams of protein to fill you up. You'll also save seven grams of fat and 80 calories.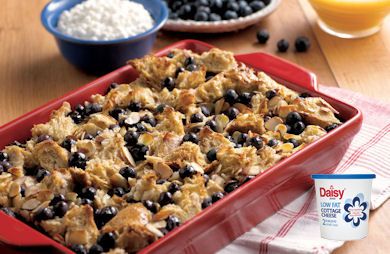 Blueberry French Toast Breakfast Casserole
Smart Swap: Cottage Cheese vs. Heavy Cream
French toast casserole is a rich and decadent dish. Bakery bread is cubed and drenched in a creamy egg-and-milk custard. Traditionally made with heavy cream, this version uses cottage cheese instead. This swap will save 304 calories and 39 grams of fat while still providing the "mouth feel" of heavy cream.




Blueberry Flax Seed Muffins
Smart Swap: Applesauce vs. Oil or Butter
These muffins are packed with healthy ingredients like flax seed and blueberries, and they swap in applesauce to cut down on fat. Using applesauce in baked goods creates a moist, thick texture, and you'll save at least 1,550 calories and 184g fat per cup!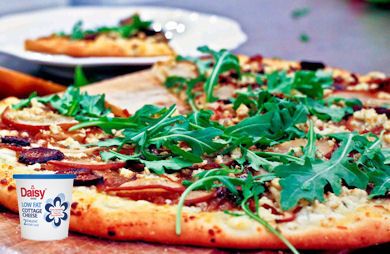 Caramelized Onion and Fig Pizza
Smart Swap: A Mix of Full-Fat and Low-Fat Cheese vs. All Full-Fat Cheese  
When you're cutting calories, it doesn't mean that you need to eliminate all flavorful ingredients. With this Caramelized Onion and Fig Pizza, we use one part Gorgonzola for flavor but also use creamy cottage cheese to save calories and pump up the protein. This Smart Swap saved 404 calories and 38 grams of fat, and because a little bit of this strong cheese goes a long way, you'll never notice the change.




Cauliflower "Rice"
Smart Swap: Cauliflower vs. Rice
Here's another Smart Swap for low-carb lifestyles. Instead of rice, use finely shredded or chopped cauliflower to cut carbs from 45 grams per cup to just 3. This swap works great in dishes like stir-fries or salads (but not as well in dishes like casseroles, where the rice is meant to absorb excess moisture).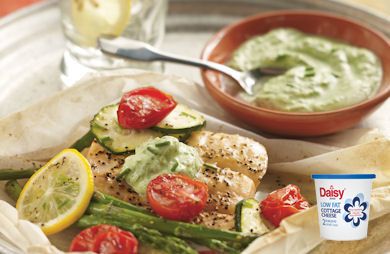 Fish and Vegetable Packets
Smart Swap: Low-Fat Creamy Herb Sauce vs. Hollandaise Sauce
Fish and vegetables are a tasty yet sensible supper--until you douse them in Hollandaise sauce. By swapping the butter-and-egg based sauce for one made with cottage cheese, you'll slash the fat down to 1 gram per serving!  




Mini Eggplant Pizzas
Smart Swap: Eggplant vs. Pizza Dough
If you're counting carbs, you will love this pizza crust swap. Ditch the dough and use slices of grilled eggplant instead.  You'll save 45 calories per piece--with only 9 carbs each.



Pumpkin Brownies
Smart Swap: Pumpkin vs. Eggs and Oil
One of the easiest baking hacks is to swap canned pumpkin puree for the eggs and oil called for in a cake mix. When you use a chocolate cake mix, the result is a thick, fudgy cake that has the texture of a brownie (with one-fifth the fat of a regular brownie).



White Bean Dip
Smart Swap: Cottage Cheese and White Beans vs. Mayonnaise
Add a cup of regular mayonnaise to your favorite dip, and you'll add 1,439 calories and 160 grams of fat to the recipe. Swap it for an equal amount of low-fat cottage cheese for just 200 calories and less than 6 grams of fat. With all the flavor packed into each bite--thanks to red peppers, lemon juice, and fresh herbs--your taste buds won't know this version is slimmer.

These Smart Swaps will ensure that you can still eat your favorite foods while sticking to your healthy lifestyle!