This story is from the ladies of The Skinny-Fat Girl Diary. We are excited to have them contributing to LaurenConrad.com! In today's post, they will be sharing a diary entry featuring four quick beauty fixes every girl should know…
Hi everyone! We are so excited to be blogging to you from LaurenConrad.com today. We are the three girls behind The Skinny-Fat Girl Diary. Our blog is full of those fake-it-til-you-make-it tricks that don't break the bank. From celebrity trainer tips to DIY Louboutins, we know how to walk among the stars on a waitress' paycheck! That said, here are four of our favorite tips that will make your busy life much, much easier…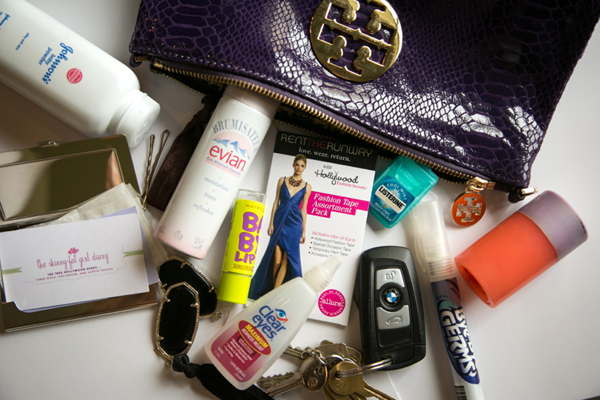 Dear Diary,
Another 60-hour work week has come to a close, and it's time to celebrate! Drinks with friends are the perfect way to start the weekend. But let's be realistic: After a week of 7AM workouts and 10-hour work days, we may be lacking a little in the appearance department. After some experimenting, we've found our favorite fixes for girls on the go. Let's just say holding it together by a thin thread has never looked so good…
The Coffee Trick
As of late, beauty products with caffeine have flooded the market, promising to help reduce both dark circles and puffiness under your eyes. These aren't empty promises—studies have proven that caffeine contains anti-inflammatory properties. But instead of buying product after product, we went straight to the source to find the key ingredient for this beauty fix: Coffee! Temperature also plays a factor when reducing puffiness. The colder the caffeine, the better! So, we created coffee popsicles. Just place place under your eyes and watch them work their magic…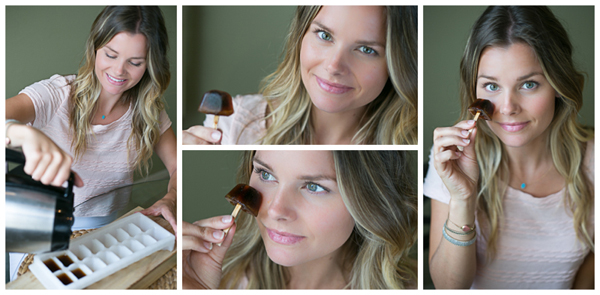 Simply brew a pot of coffee, let it cool, and then pour the coffee into an ice tray. After about 2 hours, before the ice is fully frozen, add sticks to the center of the ice cubes, and then put them back in the freezer.  In the morning, pop out a popsicle and alternate under each eye for about 3-5 minutes. You'll look refreshed and well rested.
The Toilet Paper Trick
Public restrooms hold the treasure to our next quick fix. We're always very grateful for toilet seat covers, but not for the reasons you might think. Valorie has been doing this trick since high school and she swearsby it. What's perfect for picking up unwanted oil and leaving skin shine-free? Toilet seat covers! I know it sounds totally outlandish, but the tissue consistency is perfect for absorbing excess oil!

Blot your oily areas, specifically your T-zone (chin, forehead, & nose). You can even smuggle some out in your purse and cut them into business card-sized pieces to store in a card case…which is exactly what we did. Shine free, for free!
The Baby Powder Trick
There is one product you should never leave home without: Baby powder. Every time there's a problem, it offers a solution. Greasy hair? It's the perfect antidote. Simply brush some into your roots and problem solved.  Another great trick is using it to thicken your eyelashes. By the end of the day, old mascara can leave your lashes looking rigid. Baby powder can put some life back into them. And trust us, after a long day in the office, the last thing you want to do is drag your day out with you…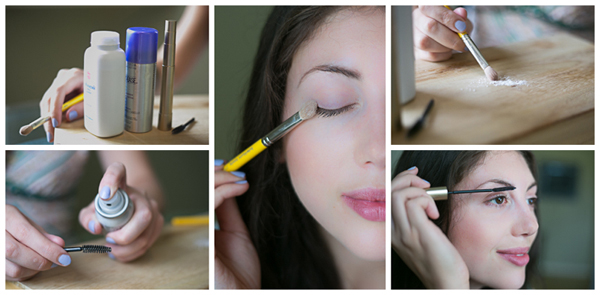 First, spray hairspray onto a clean mascara wand, and brush over your lashes. Then, dab a small cosmetic brush in baby powder, and lightly brush upon your lashes. Next, add your favorite mascara and be ready for thicker, longer-lasting glamorous eyelashes!
The Hydrogen Peroxide Trick
While you've probably jumped on the whitening strip bandwagon at some point, just admit it… you fell off. Somewhere between finding 20 minutes in your day and having the strips crumple before you could remove them from that iridescent sheet properly, you gave up (at least we did). So we looked for a realistic solution, and it was only $1.99. To make a quick difference, look no further than hydrogen peroxide! Think of it as your whitening mouthwash—all you do is rinse! A 3 percent solution is safe for oral use, and the practice was approved by the American Dental Association, in case you had any reservations.

Swish for about a minute, it will bubble. (This is good! It means it's working.) Then, spit it out. Rinse with water and brush your teeth after.
Switching our lip color is sometimes all it takes to elevate your appearance from day chic to glamorous. Adeep rich red or flirty pink immediately transforms the look (we were inspired by LC herself with this one!). And with your teeth now a brighter white, why shy away from a bold color choice?