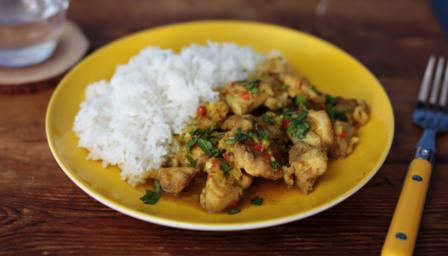 A sweetly spicy Thai dish of chicken in a thick, fragrant sauce. Serve with steamed rice.
Ingredients
2 lemongrass stalks, finely chopped

1 red chilli, deseeded and finely chopped

2 garlic cloves, peeled and finely chopped

1 tbsp Thai fish sauce

350g/12oz chicken thigh meat, cut into bite-sized chunks

1 tbsp sunflower oil

1 tbsp curry powder

100ml/3½fl oz chicken stock

1 tbsp caster sugar

small handful fresh mint, basil and coriander leaves, to garnish

steamed rice, to serve
Preparation method
In a bowl, combine the lemongrass, chilli, garlic and fish sauce. Place the chicken meat into another bowl and add half the lemongrass mix, reserving the rest. Cover and place in the fridge to marinate for at least 20 minutes.
Heat the oil in a wok or a large non-stick frying pan over a high heat. Add the reserved lemongrass mixture, then add the curry powder and stir-fry for about one minute until fragrant. Then add the marinated chicken and stir-fry for 4–5 minutes, or until the chicken pieces have a nice colour on all sides.
Pour the chicken stock into the pan and stir in the sugar. Simmer for a few minutes, or until the stock has reduced and you are left with a thick sauce. Serve with steamed rice and garnish with the herbs.