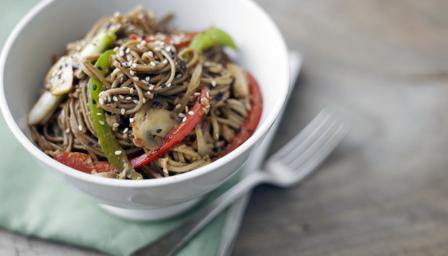 Teriyaki and yellow bean sauce add depth to this healthy - and super easy - stir fry.
Ingredients
For the yaki soba dressing

100ml/3½fl oz ready-made teriyaki sauce

4½ tbsp ready-made crushed yellow bean sauce

1 lemongrass stalk, tough outer leaves removed, soft inner core crushed and finely sliced

1 tbsp freshly grated root ginger

For the noodles

200g/7oz soba noodles

2 free-range eggs, beaten

½ green pepper, seeds removed, sliced

½ red pepper, seeds removed, sliced

1 onion, peeled, thinly sliced

8 spring onions, trimmed, sliced

10 mushrooms, sliced

2 garlic cloves, peeled, finely chopped

handful fresh bean sprouts

4 tbsp ready-made teriyaki sauce

3 tbsp vegetable oil

½ tsp sesame seeds, to serve (optional)
Preparation method
For the yaki soba dressing, bring the teriyaki sauce, yellow bean sauce, lemongrass and ginger to the boil in a small pan, stirring well.
Reduce the heat until the mixture is just simmering, then continue to simmer for 8-10 minutes, or until the mixture has thickened. Set aside until ready to serve.
Meanwhile, for the noodles, cook the noodles in a large pot of boiling water for 2-3 minutes, or until just tender. Drain well, then refresh under cold running water until the noodles are completely cold.
In a bowl, mix together the eggs, peppers, onion, spring onions, mushrooms, garlic and bean sprouts until the vegetables are coated in the eggs. Stir in the teriyaki sauce until well combined.
Heat the oil in a wok over a medium heat. Add the egg and vegetable mixture and the cooked, cold noodles, and stir-fry for 3-4 minutes, or until the noodles have warmed through and the eggs and vegetables are cooked through.
To serve, divide the vegetables and noodles equally between two serving bowls. Drizzle over the yaki soba dressing. Sprinkle over the sesame seeds, if using.