Once upon a time when I was five, I decided to make breakfast for my mother.
I woke up really early, tiptoed into the kitchen, and perused the available supplies. Out came the pancake mix, the eggs, the milk… everything I'd seen my mother use to make pancakes. I poured the entire box of mix into a bowl and doused it in so much milk that it looked like pancake soup.
Smashed in a bunch of blueberries, which turned the batter purple, and I added more eggs than even I thought was a good idea because… well… I really liked cracking eggs. 

Into the mix went baking soda, baking powder, curry powder, cayenne powder, onion powder… really just every powder I found in the spice cabinet. The more flavors the better, right?
To make a long story short, my mother ended up with cereal that morning.
Thankfully, as the years went by, I learned what food combinations do and do not go together. For example, sweet blueberries are complemented beautifully by the tangy flavor of freshly-squeezed lemon juice, as is the case in today's lemon blueberry yogurt cake.
On the other hand, it's best to stay away from the onion powder.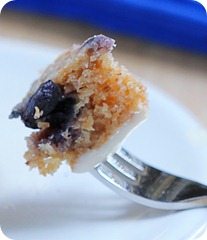 Lemon Blueberry Yogurt Cake
Inspired by: Raspberry Coffee Cake
3/4 cup milk of choice
1/4 cup lemon juice
1/2 cup plain yogurt (I used SoDelicious coconutmilk yogurt) (115g)
1 tbsp ground flax (5g)
1 1/2 tbsp lemon zest (important)
1 tsp pure vanilla extract (6g)
3 tbsp coconut or veg oil (30g)
2 cups spelt flour, all-purpose, or Bob's gf (250g)
2/3 cups xylitol or sugar (or sucanat) (130g)
4 tsp baking powder
1 tsp salt
1/16 tsp pure stevia, or 2 extra tbsp sugar (or 2 NuNaturals packets)
1 cup blueberries (140g)
1/3 cup more blueberries (50g)