Each time the seasons change, I like to assess my collection of nail polishes and decide which colors are on-trend for the coming months. Last fall, I was partial to navy, dark green and gold . This year, I've got my eye on holographics, plums, and grays. Here's why…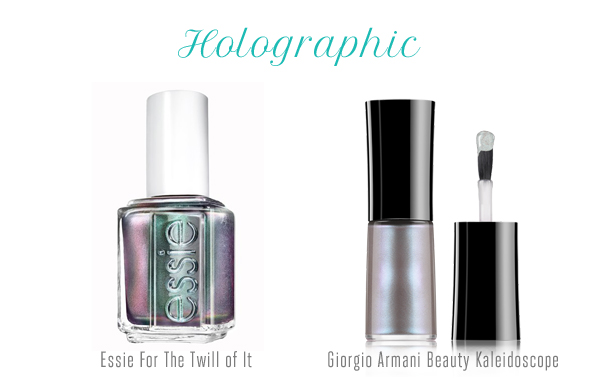 Holographic
From street style sunnies to show-stopping accessories, holographic details have been a popular trend in 2013. I recently spotted Essie's For the Twill of It and had to have it on my nails immediately. Giorgio Armani Beauty's Kaleidoscope is another noteworthy shade. The best part about these polishes is that they change colors in different lighting, so your nails will look different throughout the day.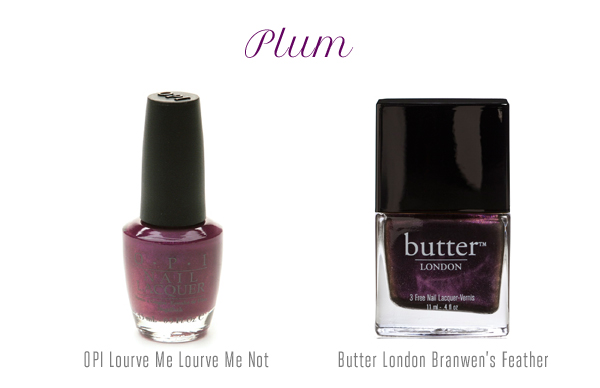 Plum
I love wearing plum shades on my nails when the weather starts to cool down. To me, plum polish is to fall as pale pink polish is to summer. Some of my favorites are OPI's Lourve Me Lourve Me Not and Butter London's Branwen's Feather (which has a little sparkle to it). You can't go wrong with either one of these colors on your fingertips.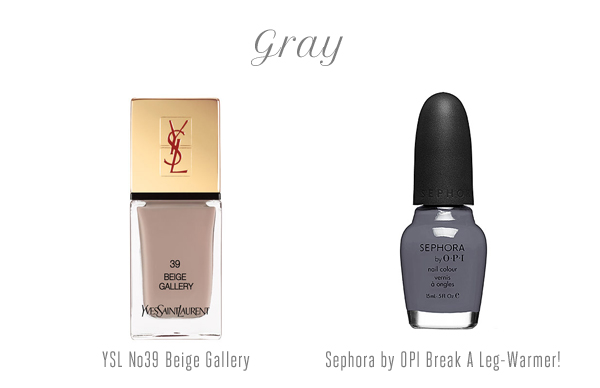 Gray
Gray is having a major moment in fashion right now. I've been seeing so many bloggers sporting all-gray outfits. I love the way this color effortlessly transitions from summer to fall. So, why shouldn't your nails be invited to the gray party? Go for YSL's No39 Beige Gallery for a light, neutral take on the color. If you're looking for more of a charcoal, try Sephora by OPI's Break A Leg-Warmer!
How creative are all of those polish names? That's half the fun of discovering new colors (at least I think so).
What three polish colors are topping your list for fall?
Be sure to snap a photo of your fall manicure and upload it to your LaurenConrad.com profile for a chance to be our next Chic of the Week.